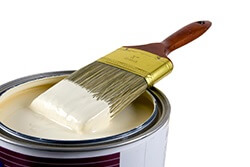 It has long been known that color has an emotional impact on mood. Your home is a place where you should be able to go and feel only positive emotions. The colors you choose for walls and accessories can help create a sense of peace and well-being.  Incorporating one or more into your home's decor can have you on your way to an oasis in the chaos that is this world. Painting the interior of your home can be one of the most cost-effective ways to update the look and feel. Let's explore this years hottest color trends for homes.
Evening Blue  (Benjamin Moore 2066-20)
While blues tend to be cool colors normally, this blue is a vibrant shade that makes you think of a warm summer swim off a tropical island. The blue has a warm glow about it that is brought alive when used along with other rich, bright colors. Think of a bright sapphire displayed on a ruby red silk cloth and a golden topaz.
Olive Moss (Benjamin Moore 2147-20)
This color reminds you of a log cabin in the midst of a cool forest. A pot of split-pea soup is bubbling over a fireplace fire and the whole atmosphere reminds you of a slower, less complex time. While this color could feel too cool when used alone, try adding touches of pale pink and lavender to invite the forest inside.
Tango (Sherwin Williams 6649)
Traditional orange has long gotten a bad rap and is considered the least-liked color by the majority of both men and women. Tango, however, takes traditional orange and deepens it to a warm color that reminds you of the smell of pumpkin pie baking in the oven. Pair this color with a bright white and you have a room that brings about feelings of family gatherings around a warm fire.
Frolic (Sherwin William 6703)
Think of the taste of cool lime sherbert on a hot summer day. This color is a lively green with more of the warm yellow touch than most greens. Pair it with white to help brighten up a small room, such as a bathroom or a hallway. Pairing it with pure black will turn it's bright, playful nature to a sophisticated color scheme ideal for summer entertaining or creating a bedroom that reminds you of cool autumn evenings watching the skies for falling stars.
Gray Area (Sherwin Williams 7052)
This neutral color has more of a greenish tint than ordinary gray. As with most neutrals, the effect is a subtle sophistication and the mood can be changed completely by the accessories you pair it with. A warm red or jewel-toned purple will have guests feeling they have entered the palace of royalty. Brown can give it an earthy, quiet refuge feel and pink or cream will give it a feel of romance. This is one of the most versatile of this years choices.
Last Words
Colors this year are ultimately bold without being flashy. They offer a rich color palate that speaks of decisiveness, warmth and royalty. Let Brownlow & Sons help you make your home into the castle you deserve. Contact us today to discuss your vision and let us make it a reality.