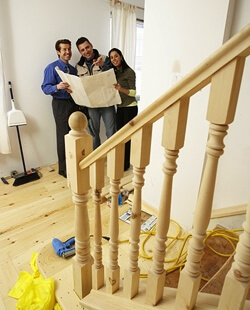 Have you been thinking about finishing an attic or basement? Or maybe you'd like to remodel your kitchen or bathroom? As you are snuggling in for winter, you might want to consider getting started on that remodeling project to make your home ready for the holidays, or to give your family more room as they spend time indoors.  Why is winter the best time for remodeling?
Convenient Scheduling
Many people are on vacation during the winter and that can be a good time to have remodeling done on your home. By having at least some of the work done while your family is gone, you can have less of a disruption in your daily lives.
Available Contractor
Often contractors have more time to work with you during the winter months to plan and design your project. By spending more time in the planning stages, you will often save time later on and end up even more pleased with the finished project. Even if you don't want to start your kitchen renovation, or your attic remodel until spring or summer, you might want to consider doing the planning with your contractor in the winter since it might be harder for him to meet with you when work picks up in spring.
Quicker Completion of Project
In winter, contractors can usually schedule workers more easily. A remodeling project often includes multiple steps, such as:
Framing walls
Drywall installation and repair
Mudding the walls
Replacing floors
Installing or updating lighting
Plumbing installation
Electrical wiring and updating
Cabinet removal and replacement
Painting
Often steps must be done in sequence, which means that painters and cabinet installers have to wait on plumbing and electrical work to be done first. When you schedule a remodeling project in the winter, your contractor will generally find it easier to schedule the project more efficiently. That means your remodel will be completed more quickly.
Quicker Permits and Approvals
Government agencies and inspectors are also less busy in the winter. Because of this, your permits will be easier and faster to get and inspections will be easier to schedule.
Better Prices on Materials
Just like other products, winter brings sales on materials for a remodeling project. Scheduling a remodel in winter gives you the chance to find close-out prices on:
Lumber products.
Window lines.
Kitchen, bathroom and storage cabinets.
Appliances like stoves, refrigerators, dishwashers and garbage compactors.
Moreover, if you wait until spring, you may actually get price increases on products as the increased demand and new lines bump up the prices you would pay in the winter on all materials for your project.
Clean-up Technologies Help Winter Construction
Worried about fumes and dust in your home during a winter remodel? New technologies and clean-up methods control these problems. Your contractor can control debris and fumes with:
Plastic zip doors.
Fans with negative pressure.
Sealing off heat ducts with a dust filter.
How Can Brownlow & Sons Help Your Remodel?
For over 70 years, Brownlow & Sons has provided professional remodeling in the Atlanta area. Our goal is to work with you to create the plan you want at a cost you can afford.
Our experienced project managers will help bring your vision to life, and will stay with the project to make sure that all the details work out the way you want.
When you work with Brownlow & Sons, you have a partner who cares about your needs. Contact us to discuss your remodeling ideas and to receive a free estimate.